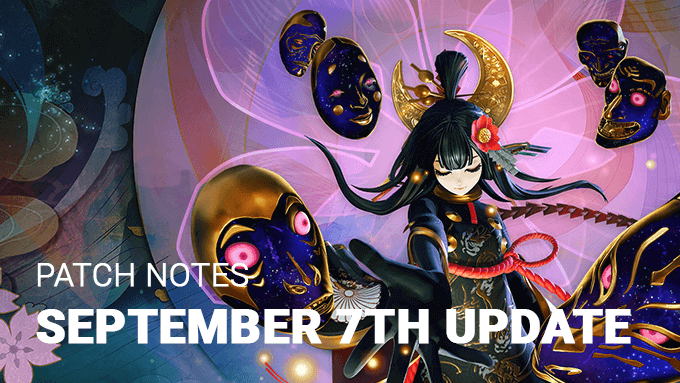 September 7th Update Patch Notes
NetEase Games has released that new Onmyoji Arena update on September 7th, 2018 (GMT+8). Servers will be up and running during this period, therefore Onmyoji Arena players can login and play as usual.

FREE SHIKIGAMI LINEUP ADJUSTMENTS
We will change the lineup of limited-time free shikigami on 10/9, 2018. The new free shikigami are Chin, Hangan, Ryomen, Ebisu, Tanuki, Aoandon, Inugami, Susabi and Hannya.
Of these shikigami, Inugami, Susabi and Hannya have a difficulty of Extreme. Onmyoji who have been in Heian-kyo for less than 7 days can't use them in battle.

KUBINASHI ADJUSTMENTS
Ability 1: Thrash
Reduced Damage Bonus from 121%/127%/133%/139%/145% to 115%/117.5%/120%/122.5%/125%.
Ability 2: Swift Strike
Thrash can use the enhanced attacks of Swift Strike, and deals the additional damage of Swift Strike to the main target.
Increased cooldown from 5/4/3/2/1 seconds to 5.5/4.5/3.5/2.5/1.5 seconds.

NEW SHIKIGAMI
This week sees Kyonshi Ani make his official debut on the Heian-kyo battlefield. His dyed skin, Onibi, will also be available to buy in the Skin Shop.
Kyonshi Ani's exclusive Coffin of Resurrection pack will also be available in the General Store. The pack is available at a 22% discount until 23:59, 13/9/2018. It contains a pact to summon Kyonshi Ani and 8 Eight Petals. Fans of Kyonshi Ani will not want to miss this!

DEMON ENCOUNTER
Kubinashi and Ichimokuren will join the Demon Encounter after this week's maintenance!
1. Kubinashi
Ability 1: Thrash·Strengthened
Can lash out his whip continuously.
2. Ichimokuren
Ultimate Ability: Fujin's Blessings·Strengthened
Shoots a Wind Amulet at attackers when blocking their projectile attacks.

LATEST EVENTS
1. Winter Bamboo
Event Period: 7/9 after maintenance to 13/9.
Ibaraki Doji's new rare skin, Winter Bamboo, is now available in the Heian-kyo's Skin Shop. If you're a fan of Ibaraki Doji, you'll definitely want to treat him to this new outfit! There's even a 12% discount until 13/9! During the event, you can exchange Soul Stones for the skin Winter Bamboo, don't miss out!
2. Mannendake After School
Event Period: 7/9 after maintenance to 13/9.
During the event, complete matches to obtain Bamboo Flutes and use them to choose a route for Mannendake. There are rewards and even HD images waiting for you to unlock! Come and see what will happen to Mannendake after school!
3. Uniform Orders
Event Period: 7/9 after maintenance to 13/9.
During the event, complete matches to obtain Uniform Orders and use them to order school uniforms. When the order for the whole server reaches a specific number, a school uniform discount coupon will be granted and Mannendake's school uniform will be available in the Mystery House!

OPTIMIZATIONS
Optimized the attack effect of turrets. Turrets from different teams now have different attack effects.
Fixed an issue that the Movement Speed bonus of Hone Onna's Ultimate Ability Triple Slash decreased from 20/30/40% to 20% for all level.
Fixed an issue that the Basic Attack button of Kyonshi Ani was incorrect.
Fixed an issue that the debuff icons above Komatsu's head were incorrectly displayed.
Added Adjust Casting Area in Settings – Control. Players can now adjust the position of the wheel and ability buttons.


Source: Onmyoji Arena official site.