Arena of Valor is launching its inaugural competitive season with the Valor Series in both North America and Europe on April 11th. The Valor Series will consist of 6 consecutive weekly tournaments that will see the regions' strongest teams compete against one another to qualify for each regional Playoff and a prize pool.
The prize pool is $50,000 per region, split across the weekly tournaments and the Playoffs. The winning team from each Playoff will advance to the Arena of Valor World Cup and have a chance to compete for the $500,000 prize pool that is up for grabs in July in Los Angeles.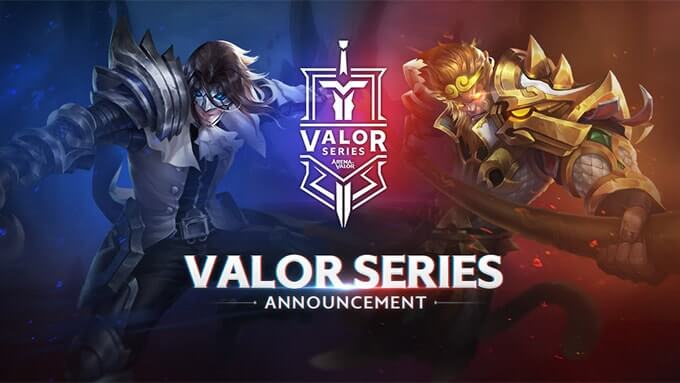 The Valor Series weekly tournaments will be preceded by an open online qualifier on April 7th & 8th to determine the participating teams. The weekly tournaments will be broadcast on the YouTube Gaming, Facebook Live and Twitch platforms. Each week, the two lowest-placed teams in the tournament will be relegated and 2 new teams will have the opportunity to compete for a spot in the Playoffs via a weekly open qualifier.
Start signing up for the tournament now by clicking esl.gg/ValorSeriesNA or esl.gg/ValorSeriesEU! The site also contains detailed information on dates, eligibility and tournament rules.

Qualifiers
Format
Each region will have 2 single elimination brackets that will award points
At the end of the 2nd bracket, the 8 teams with the most points in each region will be the first teams to receive byes into the 8 team bracket of the Valor Series
Schedule
April 7th
April 8th

Regular Season
Open league with top 6 teams held over from the previous week each week getting byes into the 8 team finals bracket the following week
7-8th place teams must requalify via the weekly open qualifiers
Weekly open qualifiers will determine replacements going into top 8 bracket each week
6 weeks of regular season play.
Week 1
Week 2
Week 3
Week 4
Week 5
Week 6
Each week will have an 8 team single elimination per region
Day 1 is quarterfinals and 1 decider match to determine 5-6 and 7-8 places
Day 2 is the 2nd decider match to determine 5-6 and 7-8, semi-finals and finals
Top 16 teams overall will be given points each week
Points accumulate over 6 weeks with the top 4 teams per region will move on to the Playoffs