Divine Firestone Taara coming to EU and US/Canada server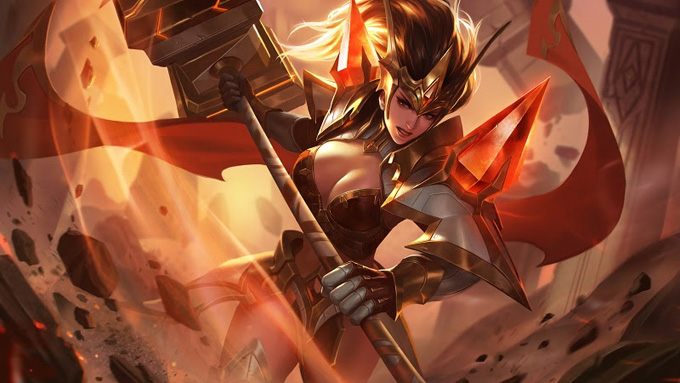 DIVINE FIRESTONE TAARA
Tencent Games has announced the Arena of Valor newest skin Divine Firestone Taara will arrive in Europe, US/Canada and Latin America servers on March 23th, 2018. This Epic skin has released in Taiwan, Vietnam, and Indonesia servers.
Learn more about Divine Firestone Taara gameplay video and screenshots here.

THE JOKER
Tencent Games also announced The Joker coming to US/Canada and Latin America servers on March 23th, 2018. He has a number of tricks up his sleeves to deal with the heroes of Arena of Valor, including enhanced bullets, rockets, playing cards, and laughing gas.

Hero Spotlight

Abilities
Punch Line (Passive)
After exiting battle, The Joker reloads his gun with enhanced bullets so that his next normal attack deals bonus 200 physical damage and increases attack range. The enhanced bullets also reduce the target's movement speed by 90% and gradually weakens over 1.5 seconds.
The Killing Joke
The Joker launches a powerful rocket that deals physical damage to enemies in its path, but each subsequent enemy hit reduces its damage by 10%, up to 40%.
Pick a Card, Any Card
Using his cunning and guile, The Joker removes all slowdown effects on him and gains movement speed as well as immunity to physical damage for 2 seconds.
Canned Laughter
The Joker rushes towards the target, stuns them for a short time and attaches a canister of laughing gas to them before spinning back to his original position. He cannot be targeted during the action. The canister explodes, dealing physical damage. The gas released reduces the target's movement speed by 90% with the effect gradually weakening over 1.5 seconds.
Tips
The Joker reloads his clips with enhanced bullets once he exits a fight. Use these enhanced attacks wisely to deal additional damage at key moments. Increase the hit rate of The Killing Joke by hitting enemies with Punch Line first to reduce their movement speed.

Builds
Here are most popular and pro builds for The Joker in Taiwan & Vietnam servers.