Arena of Valor Nintendo Switch Edition launches on September 25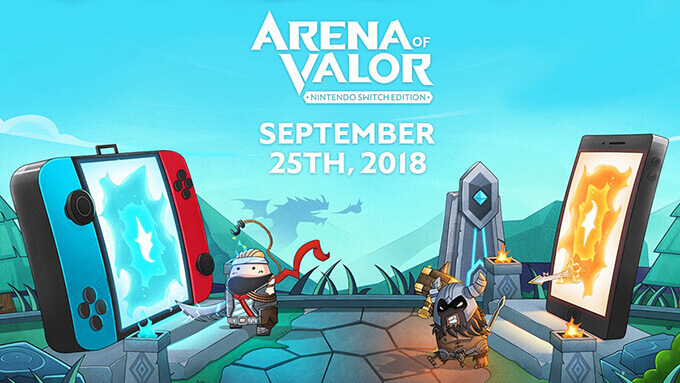 The most popular mobile game in the world is finally leaping to consoles as the Arena of Valor Nintendo Switch Edition takes the action-packed portable formula from its hit mobile game and delivers it to Nintendo Switch fans next week on September 25. Completely rebuilt with new assets to sharpen the game's vibrant 5v5 arena action for living room TVs, Arena of Valor Nintendo Switch Edition's enhancements make use of the console's distinct features, allowing players to challenge opponents around the world from the comfort of their own home.
Arena of Valor fans who have already made progress on mobile devices can get a head start with unlocking content on Switch by using Valor Club, a one-time account syncing program. After an existing mobile account is synced with a Nintendo Switch ID, players will receive a one-time allotment of in-game currency relative to the number of heroes they've unlocked on their mobile account. This will help already passionate players kickstart their experience on the new platform and unlock heroes immediately.
Arena of Valor Switch Edition will include 39 playable heroes at launch, all of which will be available to play for free during the first three days, without the need to unlock or purchase them. Several additional heroes will join the roster in the months following launch. Players can build a reputation for themselves on Arena of Valor Nintendo Switch Edition's global servers, allowing competitive players to prove their status as one of the world's most formidable warriors.
Nintendo Switch owners can play Arena of Valor Nintendo Switch Edition online with their friends even without a Nintendo Switch Online services subscription.


Source: Tencent Games Press Release