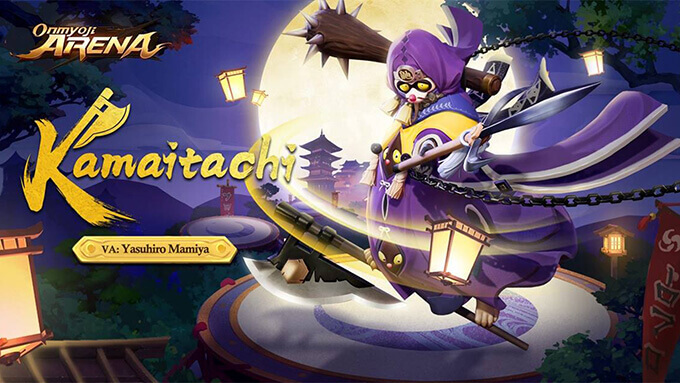 Kamaitachi is Onmyoji Arena next Shikigami
Wearing a cloak and with multiple weapons on hand, the Kamaitachi brothers will join Onmyoji Arena Royal Battle after the update on November 2nd, 2018. Kamaitachi (VA: Yasuhiro Mamiya) will be a Samurai-type Shikigami, recommended for Top or Jungler role.
Here's a preview of Kamaitachi's abilities!
NATURAL PASSIVE: BEAT DOWN
Passive effect: If the target's current HP percentage is lower than that of Kamaitachi, Kamaitachi's basic attacks turns into a 2-stage damage with each stage dealing Physical Damage. There is a cooldown before this ability can be triggered again.
ABILITY 1: BOND POWER
Kamaitachi's following basic attacks will have enhanced attack speed and deals additional Physical Damage.
ABILITY 2: UNITY
Tap this ability to select a weapon and tap again to confirm. A random weapon will be selected after 5 seconds if no weapon is selected.
After selecting a weapon, tap this ability again to throw the weapon at enemies, dealing Physical Damage and additional effect according to the weapon selected.
Ichitaro's Stick: Inflicts a Stun effect.
Nitaro's Halberd: Deals Physical Damage per second to the target for a period of time.
Santaro's Axe: Recover HP
ABILITY 3: UNDERGROUND TRAVEL
Kamaitachi burrows into the ground and ignores obstacles, during which Kamaitachi will regen HP, gain Haste and Damage Reduction for a period of time.
Kamaitachi cannot use United in this state. Kamaitachi will immediately return to the surface when Kamaitachi uses Underground Travel again, hitting a target with Basic Attack or using United.
The cooldown of Underground Travel will be reduced every time a normal or enhanced Beat Down is triggered during attacking enemy Shikigami.
ULTIMATE ABILITY: BROTHERLY BOND
Kamaitachi evokes the bond among the three brothers and becomes immune to controlling effects for a period of time, while also gaining Haste effect and Armor and Magic Resist.
Beat Down will be enhanced and its cooldown will immediately reset.
Basic Attack becomes 3-stage damage, each dealing physical damage, and the target's HP percentage criteria for Beat Down is ignored.


Source: Onmyoji Arena official Facebook page.