The 2019 GCS Summer is the 5th GCS (Garena Challenger Series) season hosted by Garena Taiwan for Arena of Valor professional teams in Taiwan. Seven teams will compete in the double round robin group stage, with the top four teams continuing to playoffs.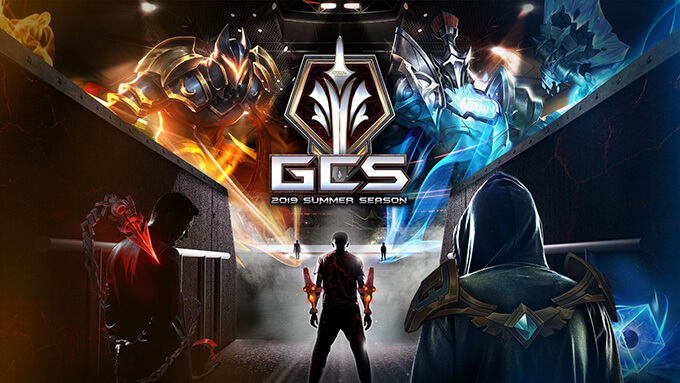 FORMAT
Top four teams from Group Stage.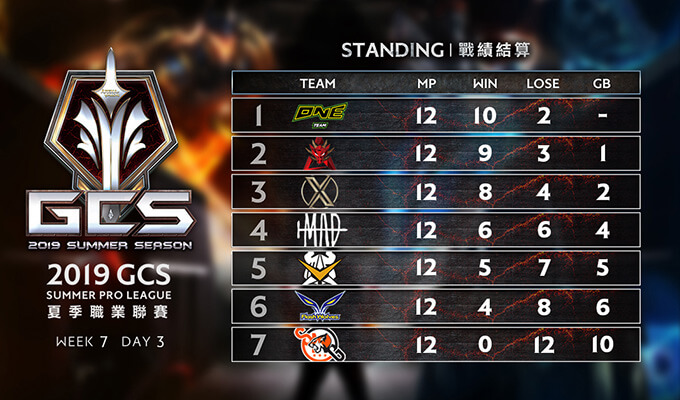 Single Elimination King of the Hill.
Round 1 and round 2 matches are Bo5.
Finals is Bo7.
PRIZE POOL
The prize pool for the tournament is 3,500,000 TWD.
| Place | Team | TWD |
| --- | --- | --- |
| 1 | Hong Kong Attitude | 2,000,000 |
| 2 | ONE Team | 600,000 |
| 3 | MAD Team | 400,000 |
| 4 | TONGXIN | 300,000 |
| 5 | Nova Monster Shield | 200,000 |
| 6 | Flash Wolves | – |
| 7 | Team SMG | – |
PARTICIPANTS
ONE Team
ONE XianYo
ONE HuaLin
ONE Fanta
ONE Tura
ONE KID
ONE YuXiao
ONE BaiYa
ONE Ting (Coach)
Hong Kong Attitude
HKA EZ
HKA Outcast
HKA XiaoLin
HKA TheMan
HKA Abao
HKA RainDay
HKA GarnetD (Coach)
TONGXIN
TXO Chichi
TXO Genji
TXO Hanzo
TXO Liang
TXO Sirenia
TXO Monster
CK (Coach)
MAD Team
MAD OM
MAD Yuzon
MAD Neil
MAD Star
MAD 03.27
MAD 03.22
Vincent (Coach)
RESULTS
| | | | | |
| --- | --- | --- | --- | --- |
| TXO | 2 | 17:00 Sep 27 | 3 | MAD |
| HKA | 3 | 15:00 Sep 29 | 0 | MAD |
| ONE | 0 | 14:00 Oct 12 | 4 | HKA |
STREAMS
VODS
TXO vs MAD
HKA vs MAD
HIGHLIGHTS
Top Plays Week 1
Top Plays Week 2
Top Plays Week 3
Top Plays Week 4
Top Plays Week 5
Top Plays Week 6
Top Plays Week 7
REFERENCES